CAA Guidance on the use of Green Laser Pointers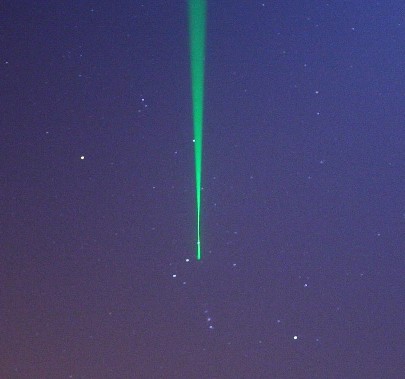 In our January meeting John Murrell of Croydon Astronomical Society reminded members of the risks associated with the use of laser pointers and brought to our attention some recent guidance on the use of lasers at night published by the Civil Aviation Authority.
This guidance is known as CAP 736: Operation of Directed Light, Fireworks, Toy Balloons and Sky Lanterns within UK Airspace.
CAP 736 can be downloaded here (pdf)
This document  makes no explicit mention of laser pointers as it talks about lasers in more general terms, but it would be advisable for astronomers to take notice when using green laser pointers to show people object in the night sky.
CAP 736 states that "Individuals or organisations wishing to direct light sources, pyrotechnics or fireworks into the air are required to do so in a safe and sensible manner, as mandated by legislation contained within the United Kingdom Air Navigation Order 2009, so that their activities may safely co-exist with aircraft operations."   Most importantly, CAP 736 defines a Notification Zone for Light and Firework displays as an area that extends within ten nautical miles of the notified ARP along the track of the extended runway centreline and 500 metres either side of the centreline.
There is a notification process which might provide a degree of legitimacy if there are any complaints from aircraft passing nearby, but it will not absolve societies of duty of care.
An article posted on the Farnham Astronomical Society website makes some recommendations for laser pointer safety and discusses CAP 736 in more detail.  Click here to view this article.
---
Image by Danny Thomas, Farnham Astronomical Society