Farnham Astronomical Society Camera Club Challenge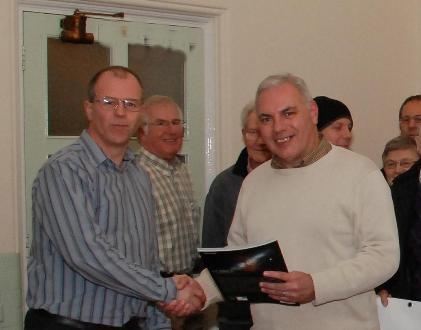 Working with other societies and interest groups is a very good way for Astronomy societies to establish strong links within their local communities.   Ever since the advent of astrophotography, astronomers have had something in common with photographers, and we share even more common ground since the the advent of digital cameras in astronomy.  With this in mind Farnham Astronomical Society decided to approach a local camera club to see what the appetite might be for a presentation on astro-imaging.  We were delighted that the Aldershot and Farnham Camera Club (AFCC) was very keen to accept our offer and were quite excited by the prospect.
Last September Danny Thomas and Peter Campbell-Burns spent a very enjoyable evening with the AFCC where they gave talks on deep sky and wide-field imaging and gave useful tips on a wide range of topics from navigating the night sky, to estimating exposure times and when to catch meteor showers, satellite or space station passes.  Danny and Peter finished off the evening by setting AFCC members a photographic challenge: to take a wide field photograph of the night sky or an astronomical object with the offer of a prize to the photographer who took the best photo as judged by our members.  The deadline for submissions was our December AGM.
You can see for yourself just how well AFCC rose to the challenge.  All of the competition entries are presented here. 
Choosing an overall winner wasn't easy but when the votes were counted the honour went to Mark Janes for his wide field landscape and star-scape showing Orion and Jupiter.  Mark's photograph stood out for the way in which the landscape shows the scale and beauty of the constellation of Orion. Special mention went to Chris Whitty for his Moon and star field and Jupiter over Elstead; David Fisher for a full moon shot; Simon Taylor for his skilful capture of the moon inside a lit street light and Alan Eggleton for a sky-scape over his moonlit garden.
Farnham AS returned to AFCC in January 2012 for the prize-giving.  Danny Thomas presented a rather surprised and delighted Mark with a book prize (a copy of Hubble: The Mirror on Universe) and a certificate.  Danny's son Adam volunteered to be the official photographer for the evening.  Wasn't this an incredibly brave thing to do?  Didn't Adam realize that he had just volunteered to be photographer…. at a meeting of photography experts!  Adam didn't let the pressure get to him – a steady hand was maintained, the lens cap was not left on, no heads were cut off and focus was spot on – in fact he did an excellent job!  David Fisher (AFCC Liaison Officer) extended his thanks to Danny and the Farnham AS for returning as promised to award prizes.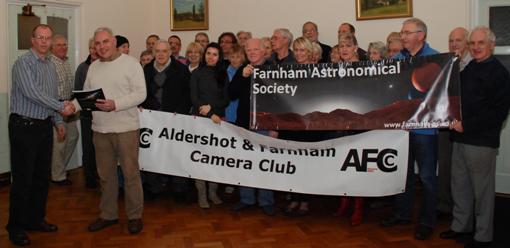 The AFCC is a very friendly and welcoming society and, without doubt, its members showed themselves to be great sports.   The competition has helped to build a good friendship between the two societies and we think it a great result that both societies wish to stay in touch and keep this friendship going. What is particularly pleasing for us is that Danny and Peter have encouraged a group of keen photographers to try something different.
This competition also provided a much welcomed opportunity for publicity for both the Farnham AS and the AFCC.  A write up of the evening was published in a local newspaper along with one of Adam's photographs.  Well done Adam! 
Since photographers share some common ground with the astronomy community, we would encourage other societies to see if their local camera clubs would like to find out more about Astro-imaging and perhaps offer to give atalk.   News of our talks has already spread further afield and Farnham As has now been asked to present to another Camera Club near Guildford. 
About The Aldershot and Farnham Camera Club
Aldershot and Farnham Camera Club was established in 1955 and from its very beginning it has brought together photographers with a wide variety of skills interests and knowledge. The Club meets on Wednesday evenings at The Hale Institute in Upper Hale, Farnham between September and June and welcomes new members at any level of skill or experience. The annual programme is varied, activities including presentations, competitions, workshops and group outings. The Club competes in the Surrey Photographic Association and Southern Photographic Federation competitions as well as friendly events against other local clubs.