Adur AS members on the BBC in June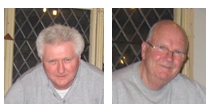 Many SAGAS members will recognise this picture of John Bush (left) and Robin Durant (right) from Adur AS. John is well known as the representative for Adur AS  at both SAGAS and the Federation of Astronomy Societies but last year he added another string to his bow!
John was contacted by a local filmmaker about contributing to a BBC film archive entitled "Britain in a Day".  The filmmaker wanted an astronomical contribution and so John agreed to film on the specified day and post a video to You Tube.
John decided to film Robin, Adur's Chairman, while he was setting up his observatory for a nights observing. Robin provided some commentary about the observatory, his equipment, imaging techniques and the night's observing session.
The result was a 15 minute video which John dutifully posted to You Tube and heard no more until recently when the BBC emailed to say that some of his material was included in the program.
The program will be broadcast on BBC 2 on Monday 11th June at 9pm. John doesn't know how much of the 15 minutes made it into the final film but at least we know there will be some content for the astronomy community.
So John, good luck from all at SAGAS for the first screening of your film and we look forward to seeing the results!