SAGAS Society Features in Sky at Night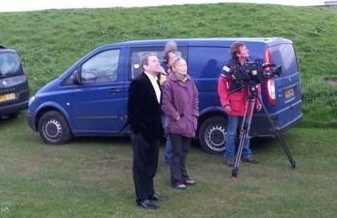 SAGAS Society Features in one of the two 55th Anniversary Broadcasts of the Sky at Night
---
---
The BBC recently requested that they use the Clanfield Observatory for one of the two 55th Anniversary broadcasts of the long running Sky at Night.
The producer requested the opportunity for the BBC to film a number of Hampshire Astronomical Group, as well as some South Downs Astronomical Society, members observing the Moore Marathon objects. This was in addition to Dr John Mason talking to camera along with celebrity impressionist Jon Culshaw. Both were filmed during the evening observing with some of the Group's telescopes.  Although the weather initially did not look great, the skies amazingly cleared during the evening and some fantastic observing was undertaken by all which was a relief to the Producer as we then did not have to go to plan 'B'.
Dr John Mason was his usual ebullient self during the evening and we found Jon Culshaw (who is also an amateur astronomer) to be himself when he wasn't entertaining us by being other people.
The producer also requested that a number of images are sent to her of the Moore Marathon objects taken by members of the Hampshire Astronomical Group ready for broadcast on the evening.
The programme is set for broadcast on Sunday 6 May at 11.55pm – 12.15am on BBC1.
There is an extended Sky at Night programme on the BBC TV Factual Channel, BBC4, on Thursday 10th May from 7.30pm – 9.00pm (repeated at 1.00am – 2.30am Friday morning).
The BBC programme "Do we Really Need the Moon" which was also partly filmed at the Observatory, is also on BBC4 on that Thursday evening at 10.00pm – 11pm and repeated again at 2.30am – 3.30am Friday morning, all these repeated programmes are on BBC4.
Interestingly this is the fourth occasion in the last couple of years that the Hampshire Astronomical Group and Observatory has been used for filming and broadcasting.
Graham Bryant
Chairman:
Hampshire Astronomical Group