Sell Out Summer Spectacular at South Downs Planetarium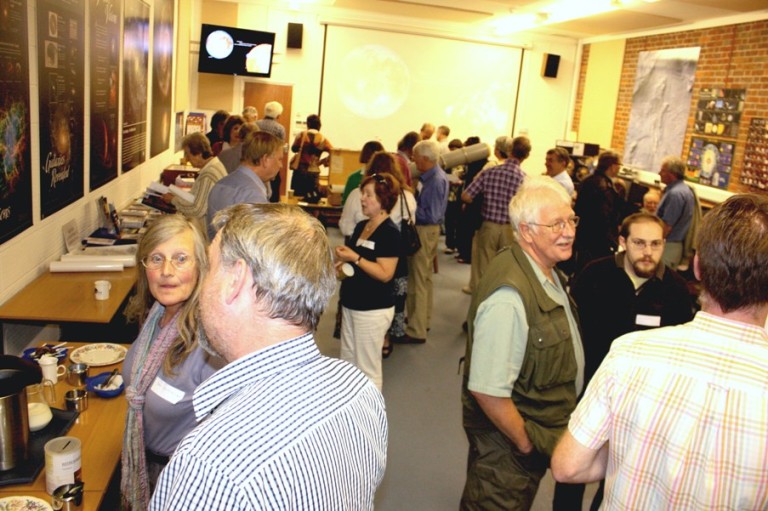 The Southern Area Group of Astronomical Societies (SAGAS) has for many years held a summer convention usually hosted and organised by one of its member societies. This summer the South Downs Astronomical Society hosted the sell-out meeting in conjunction with the South Downs Planetarium.
The SAGAS Convention was organised to complement the British Astronomical Association's highly successful summer event in Bexley two weeks earlier which themed 'European Involvement in Solar System Exploration'; as a contrast the 2012 SAGAS convention concentrated on 'Developments in Astrophysics and Cosmology'. Many of the speakers for the event were drawn from Universities in the SAGAS area and included the Universities of Southampton, Portsmouth and Sussex.
The University of Portsmouth's Institute of Cosmology and Gravitation provided the morning speakers and delegates were given insights into the phenomenal potential of the ALMA telescope by Dr Stephen Webb, this was followed by Prof. Bob Nichol who described the work of the 2011 Nobel Prize for Physics winning team and their work on Supernovae and the Accelerating Universe.
The afternoon session began with Dr Jonathan Loveday from University of Sussex, describing Galaxy and Mass Assembly taking us from the Big Bang through to the present day in which computer modelling was compared with observation. Dr Tom Maccarone from the University of Southampton continued with the theme on gravity and mass by describing the current search for Intermediate Mass Black Holes.
After tea, the day was concluded by Dr John Mason, Principle Lecturer at the South Downs Planetarium, giving a lecture using the Planetarium's star projector in which he described Galaxy Collisions in Our Own Backyard. Dr John Mason concluded the talk with an image in the star dome of the night sky four Billion years in the future dominated by the Andromeda Galaxy prior to merging with our own Milky Way. An awesome sight!
At the end of the day, thanks were offered to the organisers for a superb day and also to Graham Bryant, current chairman of SAGAS who chaired the day's proceedings.
In 2013 SAGAS will celebrate its 40th Anniversary and plans are already in place to mark this significant event which will be hosted by the Nightlife Team in Portsmouth.  Details of how to register interest in this event will be posted on the SAGAS website shortly.
The following photos are courtesey of William Bottaci (Croydon AS)  and Phil Alner (Cody AS).   Click on an image to enlarge.