Ambassadors for Astronomy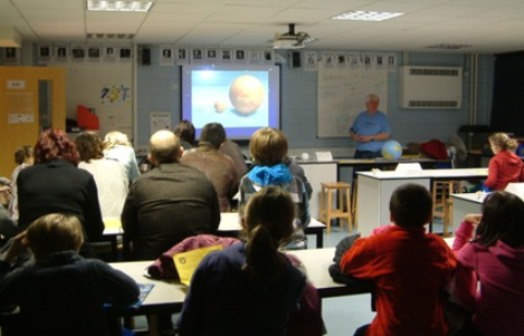 Communicating astronomy is a passion of mine, and to this end I look after the astronomy outreach done by Guildford AS for local schools, Scouts, Guides etc. Communicating Astronomy was also the title of an excellent conference mounted in October 2011 by Newbury AS. This was part of their 30th anniversary celebrations and was held in conjunction with the Science & Technology Facilities Council in the splendid setting of the Rutherford Appleton Laboratory.
One of the speakers was Jo Lewis, who looks after Education and Public Outreach at Rutherford, and is also South East Co-ordinator for Dark Sky Discovery. In her talk she introduced the audience to STEMNET and said that one of the best ways for amateur astronomers to promote interest in astronomy in schools was to become a STEM Ambassador.
So what is STEMNET? The acronym stands for Science, Engineering, Technology and Maths. The organisation was set up to support the government's Plan for Growth as defined by BIS, the Department for Business, Innovation and Skills. The organisation's vision is commendable and the strapline on their website states "STEMNET creates opportunities to inspire young people in Science, Technology, Engineering and Mathematics". This is very compatible with our own hobby, astronomy most certainly does indeed inspire, and can lead youngsters into so many different sciences – astrophysics, geology, biology, chemistry and so many more.
Soon after this event I decided to enquire a little further, and found that applying to become a STEM Ambassador was very easy. Their website (www.stemnet.org.uk) leads you through the process quite nicely. One big plus for the scheme is that a free CRB check is included within the process of accrediting the applicant as a STEM Ambassador. As many societies will know, safeguarding is of prime importance these days, and I know that the legal issues surrounding this have unfortunately put off some otherwise keen astronomers from volunteering for outreach work. This scheme helps cut right through that confusion.
For many mainstream STEM Ambassadors the role will be to go into schools to perhaps talk about their industry or business, give careers advice, explain which subjects are needed for various professions etc. The STEMNET literature states:
Activities that you can take part in as a STEM Ambassador include:
Providing careers advice from your own personal experience
Delivering a hands on activity
A talk about what you and your company do
Giving a subject talk (IE how I use maths, physics, biology, chemistry etc in my job)
Demonstration to students
Judging a challenge or competition
Supporting a STEM Club activity
Site Visit
Mock Interviews
To support this there is an induction meeting, training given as and when required, resources made available – and above all, that so-important CRB check. You also get a STEM Ambassador badge and certificate, which you can show when going to a school.
If your own working life relates to some STEM disciplines, then so much the better. My professional background was as a lecturer/consultant in Systems Analysis and Business Analysis, so was not quite so relevant. However, being an Ambassador has opened up opportunities for me to go into schools to talk to the youngsters about astronomy. Mostly this is at primary school level, and at that age their big interests are either dinosaurs or space, so they are always motivated and attentive. The visit usually involves a talk plus an observing session. This can be with either a small refractor fitted with Baader film and/or my Coronado PST for H-alpha viewing. It can also mean an evening visit for a night sky observing session – the youngsters then accompanied by a parent.
Schools send in requests for a visit to their local STEMNET organisers, which for my area is the University of Reading, who in turn send out regular lists of visit request details together with school contact details. I was quite taken aback when I recently found that I was the one and only astronomer on the books for my local area which covers the whole of Surrey, East and South Berkshire. That area in turn covers six, perhaps seven FAS member societies, comprising over 400 individuals. And yet I am the only one? This tells me that not enough people out there are aware of STEMNET and the opportunities it provides, hence this article. Wherever you are in the country, if you are keen on outreach and in introducing our fascinating subject to youngsters, then please have a look at the STEMNET website, find your local area organisers, and make an application. I assure you that you will find it rewarding and you will definitely have a sense of achievement. Who knows, amongst that class you've just visited could be the first person to land on Mars! To purloin that wonderful phrase from the Olympics:
Inspire a Generation
John Axtell FRAS
Membership Secretary FAS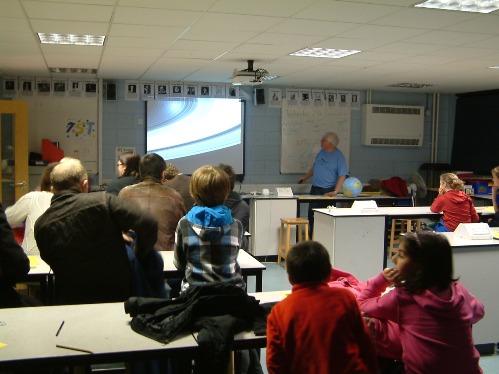 ---
The above article recently appeared in the 
Federation of Astronomical Societies
newsletter and is published with the kind permission of the Federation.
---