Foredown Tower Astronomers analemmatic sundial project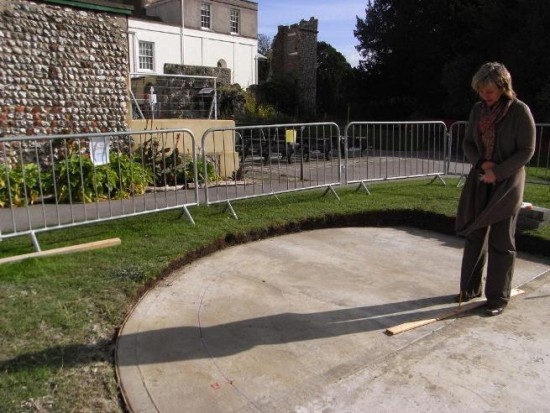 Our astronomy group, Foredown Tower Astronomers, are working with the Brighton Emmaus Community to build an analemmatic sundial in their grounds which are open to the general public.  We moved our location to Emmaus when the Brighton and Hove City Council closed the ForedownTower.  This Brighton Emmaus Community have a web-site that explains their aims and objects.  During the time we have been at this location we have managed to interest some of those who live there to take an interest in astronomy.  They took part in the National Moon Watch and a certificate of this involvement is displayed in their dining room.  This Emmaus Community were persuaded by our astronomy group to build an analemmatic sundial in their grounds to be used by the general public.  This project came about as a result of a talk given to our group by Doug. Bateman of the British Sundial Society.
The building of this sundial is waiting for a period of stable weather in order for the decoration to be completed and a weather proof skin to be placed in position.
The Chairman and Secretary of our group visited Sir Patrick Moore in September to ask him if he would like to record a message for the opening ceremony.  He said he would be delighted  and then recorded a short message.  He also said that this would the second analemmatic sundial that he had opened, the previous one was 60 years ago.
The attached photograph shows the first reading during the early stages of construction. The general manager of Brighton Emmaus, Christine Squince, is looking at her shadow at 1 p.m.
We will send more pictures of this sundial  when it is completed and also a report of the opening ceremony.
---