Farnham AS at Alice Holt Forest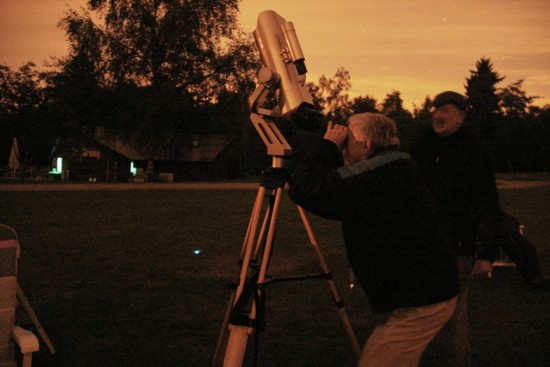 Sadly the January snow prevented Farnham Astronomical Society from holding an event at Frensham Heights School in support of the BBC's popular Stargazing LIVE programme.
However on Saturday 16 February, the weather proved kinder and the Society was able to set out their telescopes under the dark sky of Alice Holt Forest. The evening started indoors with a couple of talks for the Cubs from 5th Farnham and 8th Bramshill who are working hard towards their astronomy badges.
After the talks it was straight outside to the telescopes and to join the many other visitors to the event, which added up to several hundred over the course of the evening. Although the cloud was patchy most of the visitors got a chance to look through a range of telescopes and binoculars with spectacular views of the stars and planets. For many it was the first opportunity to see craters on the Moon, Jupiter and its own moons as well as new stars being born in the Orion nebula.
Later on the cloud thickened but it didn't dampen everyone's enthusiasm and astronomer Geof Lewis was still able to show the clouds on Jupiter through the clouds above our own planet!
Of course once the telescopes were safely packed away and everyone was ready to leave, the clouds disappeared. But just gazing up at the sky was a reminder of how the Forestry Commission and Farnham Astronomical Society started their partnership in 2012. Alice Holt was accredited as a dark-sky-site with the UK Dark Skies Discovery Partnership which is a network of national and local astronomy and environmental organisations. The forest shields the site from city lights and car headlights, so on a clear night it is dark enough to see the Milky Way as a river of stars flowing overhead.
After the success of this event, Farnham Astronomical Society will be working with the Forestry Commission to bring more chances to observe the stars under a dark sky. Keep an eye out on the web at either www.forestry.gov.uk or www.farnham-as.co.uk. Alternatively, Alice Holt has a very active Facebook page with news of forthcoming events and suggestions on how to enjoy the forest.