UK Meteor Observation Network at SAGAS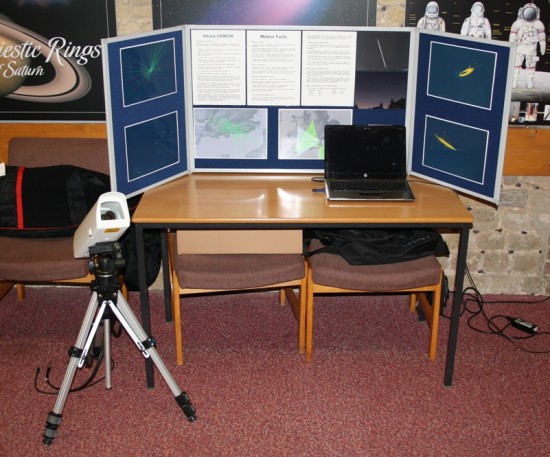 At our February meeting SAGAS delegates were able to enjoy a display and presentation by the UK Meteor Observation Network (UKMON) team. The UKMON team set up a display in the main lobby of the South Downs Planetarium where delegates gather before the main meeting.  Their display included a static demonstration of a CCTV monitoring station as well as some incredinle orbital plots and analysis from the December 2012 Geminids.
SAGAS delegates made use of this opportunity to talk to the team and find out more about the project.
After the main SAGAS business was completed the UKMON team gave a presentation on the project and its current status. This talk was very much a team effort. Richard Kacerek opened by giving some background to the project aims and objectives. He then gave an overview of how data is captured and analysed. Peter Campbell-burns (SAGAS Webmaster and Chairman of Farnham Astronomical Society) gave a preliminary analysis of the data collected so far and how this data was consistent with our understanding of meteor shower activity. Finally, Graham Bryant (SAGAS Chairman and Chairman of the Hampshire Astronomy Group), showed the HAG's approach to operating its two stations. Graham presented to the audience photographs of the HAG monitoring stations and talked about how a small team had been set up to look after the data collection and analysis. Graham also showed to also showed two video clips taken by the HAG cameras showing two spectacular Geminid meteors. One video showed a very a long bright meteor travelling 70deg across the skies and the other showed a spectacular fireball. HAG is the first society to join the UKMON network. There were some good questions from the audience throughout the presentation.
The UKMON team finished their presentation by outlining their plans for the future. These plans include visiting more groups and societies in the coming months to promote the project and, hopefully, increase coverage of the skies over the UK. Already the team are planning a visit to Guildford Astronomical Society which has invited UKMON talk to its members later this month.
SAGAS members should know Richard Kacerek by name if not by face. Richard, a member of the Farnham Astronomical Society and owner / director of Empire Elements, has supported SAGAS in setting up our new website and also hosts the site on our behalf.
---