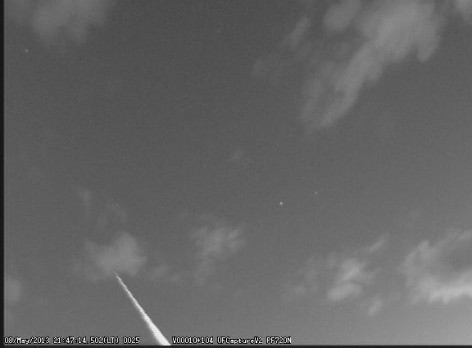 At 21:47 on 8th May a bright meteor was seen over the South of England.   Two of the ever-vigilant UKMON stations caught the event (The Church Crookham Station operated by Farnham AS member Peter Campbell-Burns and the Sidmouth Station operated by the Norman Lockyer Observatory S.P.A.M. team).  This meteor caught the media's attention, unlike the brighter meteor captured by the Church Crookham station some three and a half hours later.   Unfortunately neither camera caught a complete trail which limited the quality of the subsequent analysis, but it was enough to gain some valuable insight.
Announcements in the national news heralded the beginning of a very busy day for the UK Meteor Observation project.  This is just a brief summary of what was achieved:
UKMON was first to confirm that the meteor was not an eta Aquarid as some experts had suggested
UKMON also discovered that the meteor reached a low attitude before burning up (approximately 28km – though the quality of data means that there is likely to be a wide margin for error, it is evident that this meteor was unusually low)
Despite the limited data UKMON was able publish an approximation of its ground track
By early evening UKMON's findings were quoted in Internet newsfeeds
The Norman Locker Observatory image earned its Solar Planetary and Meteor team an interview with Sky News
UKMON images from Ash vale and Clanfield stations were used in a Daily Mail online article
Another 240 twitter users followed UKMON taking the count to over 1,170 followers
The visitor count for the UKMON web site showed a huge increase in traffic coming to the site (over 1,000 visitors in just two days)
A full report is available on the UKMON website.
What is really exciting here is not that UKMON captured the trail of an impressive, but not altogether extraordinary meteor, but that we were able to respond quickly.  With a wider network of cameras covering the UK there is no reason why UKMON could not provide an accurate and detailed analysis of events like this within tens of minutes.  This is something that we will be exploring in the very near future.