Celebrating 40 years of SAGAS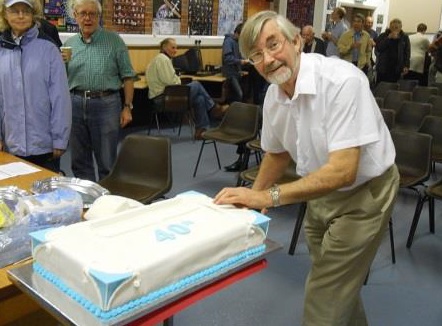 The SAGAS Summer Event celebrated SAGAS' 40th birthday at the Sir Patrick Moore Building , South Downs Planetarium in Chichester on 14 September – 40 years (and 2 days) after the formation of SAGAS on 12 Sep 1973. The theme for the day was appropriate: 40 Years of Major Events in Astronomy.

Graham Bryant (Hampshire AG) started with 'SAGAS: An Entertaining Look at Forty Glorious Years' covering 40 years of SAGAS events and people, placed in the context of astronomy and space-flight milestones during that period. The talks took place inside the Planetarium with slides and images projected onto its dome. Other speakers were:
Dr Steve J. Fossey: 'Exoplanetary Tales: Detecting and Characterizing Extrasolar Planets',
Ian Sharp: 'Imaging the Moon and Planets: How Things Have Changed in Forty years',
Nick James: 'Remarkable Comets: Past and Present'
Events were concluded by Dr John Mason, South Downs Planetarium with 'An Incredible Forty Years in Astronomy and Space Research'.
For the latest on South Downs Planetarium: http://www.southdowns.org.uk/sdpt/
In between talks, plenty of time was left for members to mingle, talk, reminisce, swap ideas, pose for photos inside and out… and eat the splendid cake (see below) that Phil Alner (Cody AS) baked for the occasion!
Photographs are courtesy of Tony Questa (Guildford AS).
Click on any of the following photographs to enlarge.
---