Crawley AS has a surprise visitor to it's stargazing event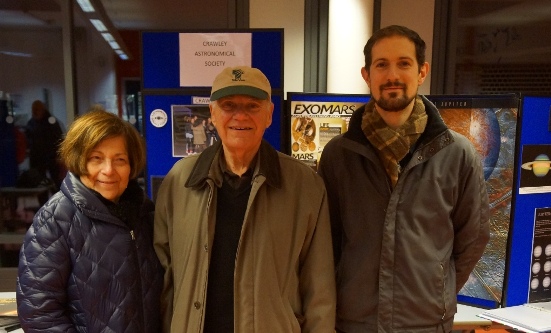 Our Star Gazing evening at Oriel High School was a night to remember with the surprise visit of Al Nagler from the USA and his family to our joint Star gazing event, which was blessed with a clear sky, in a Winter otherwise on record as the wettest ever.
Al was in the United Kingdom on a visit that had seen him as one of the speakers at the European Astro Fest which had been held in London over the 7th and 8th February. Al had spoken on the development of his company's remarkable Telescopes and eye pieces which give the observer an apparent field of view of excess of 100 degrees.
Al was accompanied to our event by his wife Judi and four other family members. Al's party remained with us for all of our evening's event during which time they were able to view Jupiter, the constellations of Orion, Taurus and Gemini. Al was particularly interested in seeing the Lunar occultation of a 3.6 magnitude star Lambda Gemini which was due to take place at 20.10 GMT. Al was very impressed with the display of Astronomical material which had been set up in the Cafeteria area of Oriel High School. He also expressed amazement in seeing the panel which showed the large number of Astronomical Societies which belong to SAGAS.
Al Nagler was born in New York in 1935 and started to become interested in science when he was eleven years old. Al built his own telescope with a mirror of 8 inch diameter whilst still at school. His interest in Astronomy continued unabated into his working life frequently travelling into the countryside away from city lights to better observe the night sky.
In 1957 he joined the Farrand Optical Company eventually becoming the lead designer of the wide-angle projection systems used by NASA for the Apollo moon landing Simulators.
In 1977 Al set up his own Company TeleVue Optics which was the start of his design and development of high quality Telescope Eye pieces together with short focus Refractor Telescopes that have revolutionised Astronomy, especially for those who wish to take their Astronomy with them as they travel world wide to observe the sky from latitudes different from their home.
A full biography of Al Nagler can be found on the TeleVue website.