National Astromy Week – Newbury Sidewalk Astronomy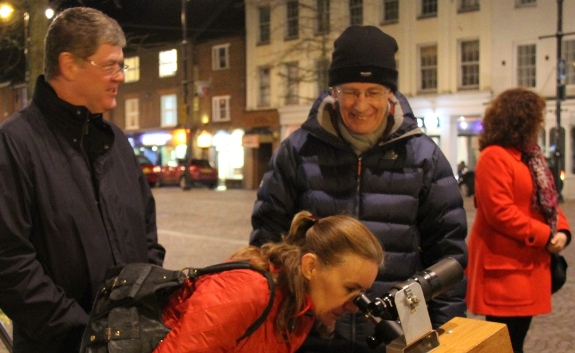 On March 4th the Universe came to the Market Place in the centre of Newbury, with evening shoppers finding themselves looking at the hidden mysteries of the cosmos above their heads.
Members of Newbury Astronomical Society brought along a collection of telescopes to do some "Sidewalk Astronomy" as part of National Astronomy Week. Fortunately, after weeks of cloud, the sky cleared and close-up views of Jupiter and the Moon was offered up. Despite being under the street lights the residents of Newbury were wowed looking at the moons of Jupiter, and many could even make out the cloud bands that encircle the giant planet.
Chairman of the society, Chris Hooker, commented, "We estimate 200 people stopped to take a look, and I think everyone enjoyed it". There were certainly crowds, and even with seven or eight telescopes being manned by members of the society there were queues of people to take a look through the eyepieces, and many a tricky question was asked.
"Under the street lights isn't perfect for seeing faint objects," explained member Robert Bone, "but that's not the point of the evening, it's giving people the opportunity to look through a telescope and see just how easy it is to get started in astronomy."
For those wanting to find out more about Astronomy please contact Newbury Astronomical Society (www.newburyas.org.uk) who meet twice a month, one of the meetings is aimed at beginners and includes talks on what's up in the sky this month, help with using telescopes and even some observing afterwards if the weather is clear.
Article by Robert Bone, images by Nicky Fleet
---