Crawley AS visit to Oriel High School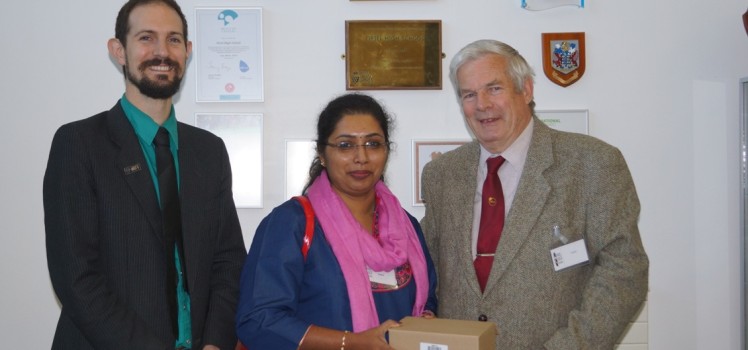 Neil Morrison has shared with us some photos of a visit to Oriel High School.  Later Neil returned to Oriel to gift a some eyepieces and two books written by Strom Dunlop (one on astronomy and one on he weather) to teachers visiting from Loyola School ( Jamshedpur) .  Both books were autographed by the author,
Oriel have a connection to Loyola  and have been on  at least two  visits there arranged through the British Council.  The Loyola School has an Astronomy Club which  has been in difficulties recently as the Club is run by a Jesuit priest who is 92 years of age and wheel chair bound.  Eye pieces had  gone missing  from their 4 inch reflector.  Also, their antique refractor ( Circa 1900) now has  two cracks in  its objective lens.  Neil has been giving  been  advising on the way forward .
The line up in the above photograph is: (left to right)  Russell Arnott Deputy Head of Science at Oriel Hight School, Exchange Tutor  from Loyola School and Neil Morrison  Chairman Crawley A.S.