Bankers Return Journey to the Starsby Neil Morrison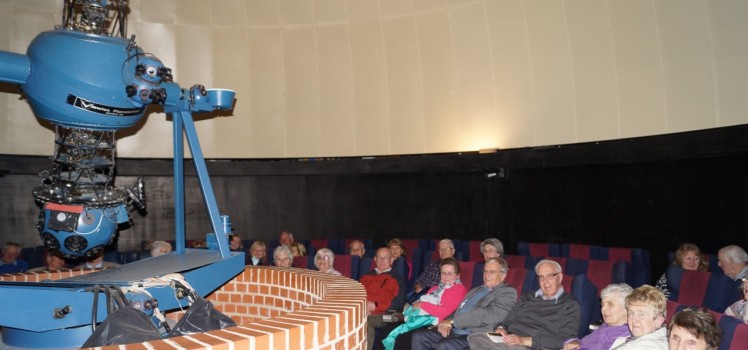 On the 11th April 2016 , 53 retired Branch Bankers and friends made a return visit to the South Downs Planetarium in Chichester. This was the second visit to the Planetarium that had been arranged by the Chairman of Crawley Astronomical Society for his ex colleagues. The previous visit having taken place two years previously on the 4th April 2014.that there was such a positive feed back from the first visit that a return trip was arranged. Invitation to attend the private presentation where sent out to banking  contacts which  drew in retired Bankers from an area  covering  East and West Sussex , Hampshire and as far west as Bournemouth.  Light refreshment had been provided by the Planetarium to greet us on arrival, for which a small donation was made by those attending. The Planetarium can increase the sum donated by reclaiming an element of Tax under Gift Aid .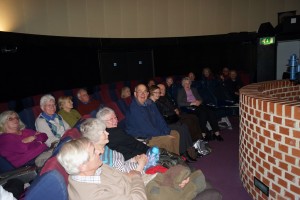 The formal visit started with a short introduction by a member of the Planetarium's volunteer team to the activities under taken by the Planetarium. There ranged from visits from parties of School children undertaking their Science studies, Brownies attaining their Astronomers Badge, Public Presentations of the Night Sky open to all and arranging private functions such as ours. The most unusual of these had been a  private booking were a  young man wished to propose to this  young lady under the  stars and wishing to ensure that  stars were  visible booked the planetarium  to project the heavenly scene , thereby thwarting  any intervention of clouds to spoil the occasion .   Our party then moved into the Dome of the Planetarium where   Dr John Mason once more kept his audience enthralled presenting a view of the  Spring  night sky as visible from Chichester and the present and planned space missions . Also included were a series of clips of video clips of Tim Peake on board the International Space Station which was a reminder that Tim had attended Chichester High School and that the Planetarium is built on part of that School's grounds.  The presentation ended with time for questions from the audience which were many and various all succinctly answered by Dr Mason.  Finally  Dr Mason  entreated us to  tell their  friends about the work of the Planetarium  .  The event finished with a round of applause in appreciation of the presentation before all made their way home.